Welcome To Bowker Safaris
We provide ultimate and comprehensive hunting experiences, throughout Southern Africa. We are a family owned hunting operation established in 1970, with experienced guides who have lived in the hunting area since birth with a vast knowledge of terrain and animals. Bowker Safaris offers a wide variety of species to choose from, in a diverse hunting terrain.

Official Covid-19 website for south Africa –  www.sacoronavirus.co.za
Hunting Areas
Our primary hunting area is situated in the malaria free Eastern Cape, a two hour drive from Port Elizabeth where we have huge concessions and where 34 species of plains game may be hunted. We also hunt in Kwazulu Natal for red duiker, suni, nyala and common reedbuck.
Southern Greater Kudu and various other plains game are hunted in areas north of Johannesburg. The terrain and habitat are diverse ranging from valley bushveld, savannah to mountains.
Available Animals That Can Be Hunted
Aardwolf, Baboon, Bat-eared fox, Black Backed Jackal, Black Lechwe, Blesbuck, Blue Wildebeest, Blue Duiker, Bontebok, Buffalo, Burchell's Zebra, Bushpig, Cape Bushbuck, Cape Eland, Cape Kudu, Cape Grysbok, Cape Fox, Caracal, Chobe Bushbuck, Civet, Common Reedbuck, Common Waterbuck, Crocodile, Defassa Waterbuck, Elephant, Fallow Deer, Gemsbuck, Giraffe, Grey Duiker, Hippo, Hyena, Honeybadger, Impala, Kafue Lechwe, Klipspringer, Leopard, Lion, Lichtenstein Hartebeest, Livingstone Eland, Livingstone's Suni, Mountain Reedbuck, Nyala, Oribi, Puku, Red Hartebeest, Red Lechwe, Red Duiker, Rhino, Roan, Sable, Serval, Sharpe's Grysbok, Sitatunga, Steenbok, Southern Greater Kudu, Tsessebe, Warthog, White Springbuck, White Blesbuck, Wild Cat, Zebra.
Safari Options
We specialize in Hunting Safaris and can also offer exclusive touring at the end of your hunt, or for non-hunting members of your party. This will be tailor made according to your group requirements. We strive to offer you the most authentic African hunting and excellent service to make your safari an experience of a lifetime.
Bird Hunting
Pigeon and dove hunting is high volume stuff. You can expect to shoot between 300 and 800 shots per day. No bag limit on pigeons and doves. Pigeon hunts conducted between March and July.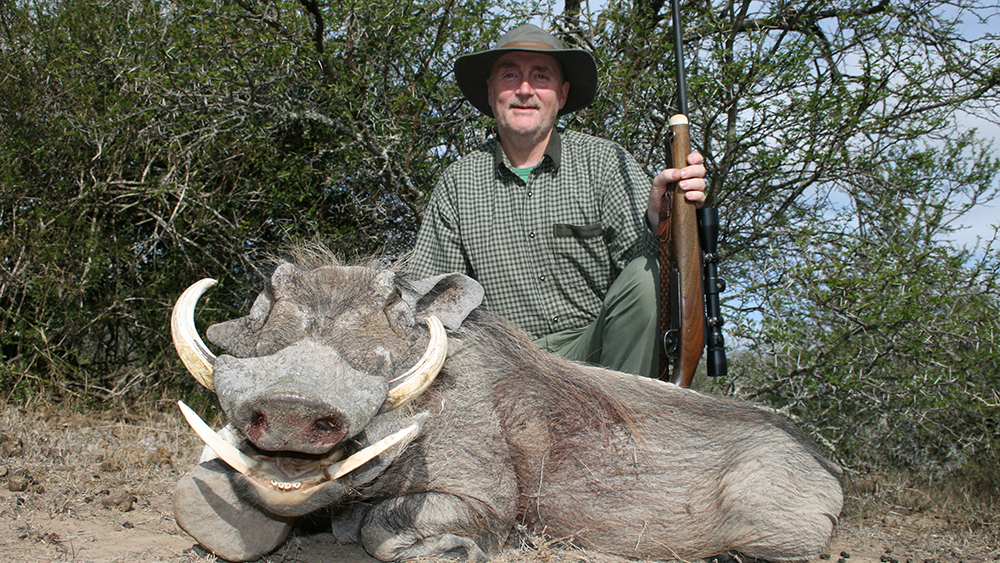 Hunting Safaris
A 7-day Safari Excursion including 5 Trophy animals can start from as little as US$5000 all-inclusive of everything (excluding flights). First time hunters – specific packages can be built for you.
Bow Hunting
All our bow hunting in the Eastern Cape is walk and stalk and therefore we hunt exclusively off our price list. This hunting is not for the novice bow hunter as it is highly challenging and longer shots are required (up to 80 yards in some instances)
I'm hunting with Bowker Safaris several times, and I'm always very, very satisfied.

Meyrick is a fantastic person who do all what he can for that you shall have a hunt for lifetime, and the hunting area is very big and it's a lot of animals. And good trophies.

The food is good and the evening at the fireplace is amazing.

I recommend Meyrick and his staff, you will not be disappointed.
I've hunted with Bowker Safaris 4 times in the last 13 years and each trip was like going home.  The people are second to none, the hospitality is top shelf, the food is great and the accommodations very comfortable.  The most impressive aspect of Bowker Safaris however is the diversity and quality of the game, which is amazing.  If you are looking for that special Eastern Cape trophy, or just looking for an awesome South African Safari, Bowker Safaris is the place.  Looking forward to my 5th trip over next month.
My brother and I hunted with Bowker Safari's for a variety of plains game and some cull hunts as well.  The hunt was excellent with a lot of trophy animals seen and harvested.  The ranches hunted by Meyrick and his PH's are beautiful and full of game.  The top notch hunting and PH's were followed by well appointed lodging and excellent food. It made for a very relaxing and fun time knowing you were going to see plenty during the day and return to a very comfortable lodge and amazing food. I had visited and hunted several ranches on my trip to South Africa and Meyrick Bowker's of Bowker Safari's was the highlight of my trip.
I'm hunting with Bowker Safaris several times, and I'm always very very satisfied.

Meyrick is an fantastic person who do all what he can for that you shall have a hunt for lifetime, and the hunting
area is very big and  it's a lot of animals. And good trophies.

The food is good and the evening at the fireplace is amazing.

I recomend Meyrick and his staff, you will not be dispointed.
My first South African hunt was with Bowker Safaris. Meyrick Bowker was my PH. It was a 10 day hunt that held great adventure each day, starting in the morning and ending at night in the trophy room/bar or around the braai. Great conversation, excellent meals and outstanding hunting. Meyrick knew where to look for game and always had an eye for finding mature class animals. He is a fine PH and great company to hunt with. My hunting partner took some outstanding game as well. We both returned the very next year and extended our hunt for 14 days. Both of us took great trophies with my friend taking a world record that still stands today. You can count on having a great safari with the Bowker family whether hunting alone, with family or friends!
Since 2006 I have hunted three times with Bowker safari two times with Meyrick, I also took my wife two times, she doesn't hunt but had great fun.

I first met Meyrick's mother at the Sacramento sports show. My partner and I had a wonderful conversation with her. After a few days we booked a plains game hunt for 8 days with 8 trophies each… That's how easy it was. They put me in touch with a travel agent who arranged a meet in South Africa, took care of getting the firearms registered and arranged for someone to take us trough customs and firearms control,

But lets talk about the hunts and accommodations.. Once we landed in port Elizabeth we were met and driven to the ranch. The accommodations were top notch, and the part I have always enjoyed about hunting with Bowker is that once your at the ranch your treated like family. When you book you will be the only ones staying at the ranch, You'll have your own room and bath. meals are home cooked and your laundry is done daily, you cant want for anything. Dinner is a time where you enjoy home cooking of some of the game you have ben hunting or will hunt. Excellent South African wines, you will never leave hungry. After dinner if you desire you can retire to your room or enjoy a beverage in the bar area, where the hospitality continues. On most nights there is fire pit to enjoy and trade more stories or just relax. I could go on but call me and ill fill you in.

Hunting, you will be guided by Meyrick or another hand picked guide, You will have at least two trackers with you. All the crew is top notch. My partner each got our eight animals and they were all trophies', My partner got a record book bush buck Buck. Meyrick told me he wont shoot anything less than a trophy he would put on his wall.

On the second trip in 2010 My wife was along, for a 10 day sightseeing and safari we were after five animals but decided on six that trip which included an Eland and Zebra. My wife also did shopping with the with the family members. she had a great time so much so she returned with me on a 10 day Cape buffalo hunt that included all four colors of spring bucks in 2017.

I got an outstanding buffalo. as well as the spring bucks. In fact I have gotten all the trophies I was hunting on all the trips. I think the total is 20. I'm look forward to going back and getting a sable

I could go on and on but call me my name is Chuck Whitmore 19163150741, I will share all with you. I will say I don't have one negative thing I could even think of
Top shelf outfit.  No surprises here.  Bowkers safari's provides exactly what the brochure shows at the price quoted.  Excellent accommodations, meals and hunting. The best recommendation I can give is that I have hunted with them on three different occasions with 100% success.
This was My first time hunting in Africa, and I have to say I can't wait to go back. Bowker Safaris made a first time experience a trip I will never forget. The amount of animals was amazing. I got six trophys including a beautiful Kudu. Meyrick Bowker was My Guide, and He made sure I took only the nicest trophys. I am also disabled and Meyrick accommodated that like the Professional He is.

The accommodations at Bowker Safaris was first class, the rooms were big and comfortable and the food was to die for. We got to try different kinds of wild meat and it was delicious.

After dinner We would go to the Lounge and have a drink and talk about the days events with the other Hunters ( make sure You sit down with Frank Bowker PH retired) and listen to His stories, it was one of the highlights of the whole trip. Great Guy!

Meyrick, Alexis, Lily, Kevin, Natalie THANK YOU for showing Us a wonderful time, and We will be back soon.