Howdy All,
It was great to catch up with many of you on my marketing trip to the US and Canada in Jan/Feb. After returning the season started off with some much needed rains after this long drought. This meant the animals were back in really great shape by March.
Here are a couple of my favorites so far to whet your appetite……….
This Bushbuck is one of the oldest I've ever seen harvested; this is indicative of our successful game management program which sees us harvesting great, old, quality animals each year.
I had the privilege to guide my daughter, Lily Bowker (12), to hunt her first Springbuck. It turned out to be an awesome ram. We had a lot of fun together and she loved hunting it, eating it and she's eagerly awaiting the skin to have on her bedroom floor.
Another really great Eastern Cape Kudu. They have been exceptional this year and we are looking forward to collecting some monster Kudu in the 2020 hunting season.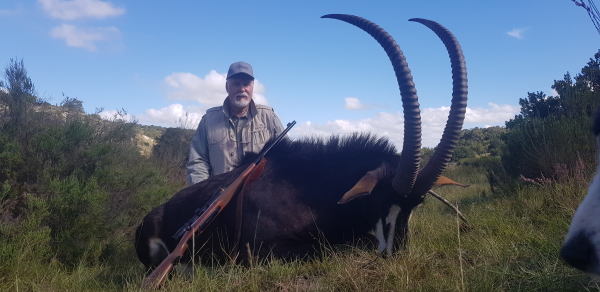 Congratulations!!! To our friend Larry (WA) who harvested the biggest Sable antelope I've guided in over 25 years hunting in the Eastern Cape, South Africa. Awesome hunt, awesome animal!
This is a great representative – Copper Springbuck. We have taken some excellent Springbuck Grand Slams (Black, White, Cape and Copper) so far this season. Nice job Bill (Alberta)!
We still have about 9 weeks of hunting to go for the year and busy booking hunts for 2020.
2020 is going to be a milestone for Bowker Safaris; we celebrate our 50th year in the business!!!
Check out our website www.bowkersafaris.co.za for some awesome packages and any information you are looking for.
Or call Meyrick Bowker on +27 82 940 3779 to plan your next African Hunting Safari.
We specialize in plains game hunting as well as Buffalo packages and pride ourselves in offering you fantastic hunting opportunity.
Hunting is in our blood, and we look forward to sharing it with you soon!